Large format graphics are one of our specialties at Dolan Printing. From small businesses to the NCAA Final Four, we've been called on to create innovative products and deliver our clients' ideas in larger-than-life forms. Since there are quite a few categories that fall under large format, we thought we'd take a minute to give you a quick overview of large-format types of uses and materials.
Large Format Printing 101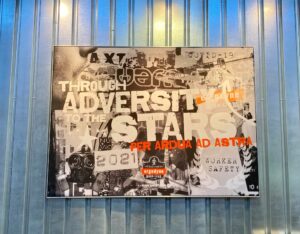 Large format printing is, as the name implies, BIG. Unlike traditional digital or offset printing methods, the equipment used for these projects typically involves working on a much larger scale to create custom shapes and sizes for any number of applications. We are surrounded by large format printing in our daily lives without realizing it. Next time you visit the grocery store, look around to see many of these graphics hard at work. There are likely to be billboards or banners outside announcing seasonal items, point of purchase displays calling attention to special deals and new products, directional decals on the floor helping with traffic flow, end caps, sale announcements, and pop-up displays. Everywhere you look, you will see large format printing.
Large Format Materials
Due to the variety of wide-format applications, the materials or substrates used in their engineering are vast. Here are a few of the most popular:
Paper and paperboard – affordable, short term solution for in-store graphics that are not exposed to the elements
Vinyl – affordable, long term solution that stands up to the elements and used frequently in outdoor display signage and banners
Textiles (fabric) – There are a wide range of uses for large format textiles that can be printed and stretched over frames for custom shapes – frequently seen in trade show displays for their packable and transportable nature
Canvas – photo quality reproductions turn graphics into artwork for a high-end, oversized look – great for corporate displays
Foam Core – printed images are applied to foam center sheeting, often used for sturdy signage or engineered into custom shapes to create point of purchase displays
Adhesive sheeting – a category all its own, large format graphics applied to adhesive sheeting can be used for window displays, vehicle wraps, floor directional signs and much more.
Other materials used can also include wood, metals, and acrylic.
Designing for Large Format
Creating large format pieces requires a slightly different design process than what we'd use for traditional print or electronic media. The larger scale means considering the distance in which the product is being viewed and how the images and typography will appear. Also, keep in mind file set-up and prototyping options. Working with a collaborative print service provider like Dolan Printing will help avoid problems and costly delays.

Fabrication & Installation
Printing companies that work with large format graphics must be problem solvers, able to see concepts from "How does it work?" to "How does it look?". Large format print projects are often investments, so you want to make sure that you have an attractive product that can withstand the environment. Give your printing partner as much information as you possibly can, supply photos when possible, so they get the best sense of your layout and can make suggestions for improvements or design alterations that will help save time, money, and hassles down the road.
With large format graphics, the sky is truly the limit. Dolan Printing is ready to tackle all challenges! View our gallery to see examples of our work, or contact us today to see how we can help you with your next large format project. Let us show you how we're #visiblydifferent.