Recently, Dolan Printing was tasked with developing sustainably printed materials and packaging for a valued client who produces plant-based body care products. We accepted the challenge and delivered finished products, including product information cards, notepads, packaging and other promotional items using 100% post-consumer waste recycled papers. Through this partnership, we are expanding our capabilities to deliver even more environmentally conscious printing. Let's talk about sustainable print options and how you can incorporate some of these into your next print project.
Choose print
First off, let's debunk a common misconception that paper and packaging are bad for the environment. In North America, we grow more trees than we harvest, and sustainable forestry practices help ensure that trees are regenerated and continue to remain forests. Each year, more than 67.5 million tons of paper and paper board are recovered through recycling to create the containerboard in corrugated boxes. 90% of corrugated boxes are in turn recycled, taking paper re-use even further.
Consumer choice
The impact of packaging waste on the planet is something that consumers are acutely aware of, and it's affecting their buying decisions. Choosing to manufacture a product in sustainable packaging lets customers know you are thinking about what happens to your products after they are purchased and can build brand loyalty. In turn, customers are responding with their wallets. In a recent McKinsey study, up to 70% of consumers said they would be willing to pay more for goods that were sustainably packaged.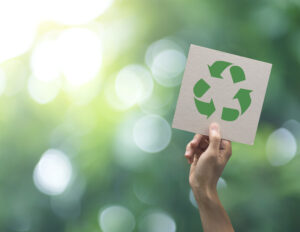 Recycled papers
For this particular client, we use papers from brands like Neenah and Rolland that are Forest Stewardship Council® (FSC®) Certified, observing the best practices in sustainability, recycling, and materials sourcing. There are many options for recycled and unique papers out there, including those made of straw, hemp and non-wood fibers.
Alternative inks
It's not just paper that can be eco-friendly. Vegetable-based inks are produced similarly to traditional petroleum-based inks and deliver the same durability and color coverage. Food packaging, or anything with food contact, is one area to consider for non-petroleum-based inks. Vegetable-based inks have the additional benefit of requiring fewer solvents for clean up, produce fewer VOCs and they are easier to extract in the recycling and recovery process.
Sustainability Trends for 2021
Sustainable packaging is a growing market, and there are numerous ways to lower your impact on the environment. The latest trends in sustainable packaging include a rising urgency and opportunity to re-use and re-purpose, compost, shift more responsibility to producers and remove toxic materials. GreenBiz put together a list of what to watch for this year.
These are just a few simple ideas of how Dolan Printing can help you make your print and packaging more sustainable. Contact us today and let us show you how we are #visiblydifferent from the rest!